At Eyes on Norbeck, our mission is to give you individualized and reliable eye care. We are knowledgeable, skilled, and experienced in providing various optometry services and products for your improved visual health. Whether you need a good pair of eyeglasses or you simply want to have your eyes checked, you can count on us.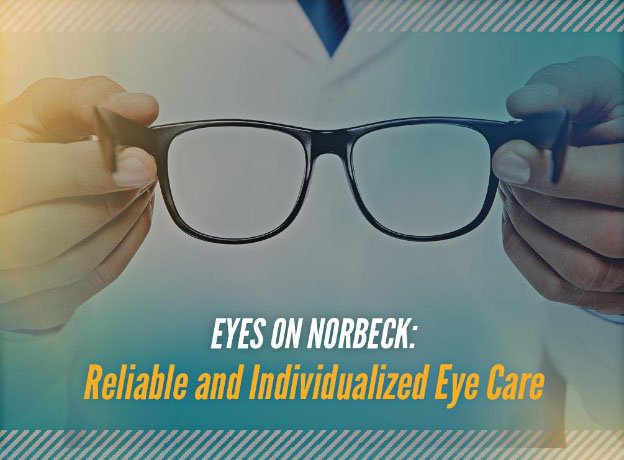 Here are some of the eye care services and products we offer:
Complete Eye Exams
Undergoing comprehensive eye exams regularly is the foundation of a good eye care plan. Doing so can help in the early detection of underlying vision problems. The sooner we treat them, the better our chances of preserving your eyesight. Even if you have no eye conditions, it's important to have routine eye exams to keep your eyes in good shape for a long time.
Management of Eye Problems
With the help of the latest optometry instruments, your knowledgeable and experienced optometrists can identify ocular changes during your eye exam. We may also check for any signs of eye conditions, such as glaucoma, cataracts, dry eyes, and red or pink eye. For those who are heavy users of digital devices, we may recommend using a pair of computer glasses as well. You can count on us for sports vision training too.
We manage refractive errors, including myopia (nearsightedness) and hyperopia (farsightedness). We may prescribe using corrective eyeglasses or contact lenses for your better visual acuity. Our eyewear selections come in various materials and styles to suit your needs and preferences. For a lasting solution, our LASIK co-management services include evaluation if you're a good candidate for the procedure and post-operative care.
One-Stop Optical Shop
Apart from the regular contact lenses, we also have specialty contact lenses, such as scleral lenses. Your optometrist may prescribe them if you have certain conditions, such as keratoconus, that regular contact lenses may not address. We provide High-Definition eyeglasses as well for your superior optical experience and high-quality sunglasses for your enhanced UV protection.
For premier and personalized eye care, turn to Eyes on Norbeck. Get in touch with us today at (301) 238-7199 to schedule an appointment. We proudly serve families in Potomac and the surrounding MD communities.