Doctors and Staff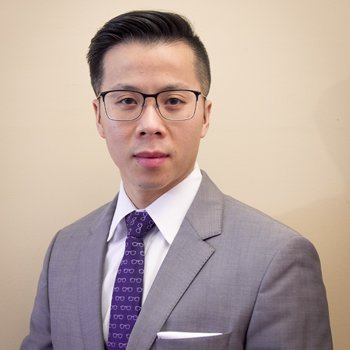 Doctor AuYeung was born in Israel (That's right. Israel) and grew up in Sunny Florida.  He obtained his Bachelor's Degree in Food Science at University of Florida.  During his time there, he was a hibachi chef at a local Japanese steakhouse! His intention was to be in the food service industry. However, he wanted to improve people's quality of life at a deeper level, so he decided to become an eye doctor.  He accomplished this by obtaining his Doctorate of Optometry at Nova Southeastern University in South Florida.
His externships include the National Naval Medical Center (Now Walter Reed) in Bethesda, MD and Veteran's Affairs Medical Hospital in Salisbury, NC. Not only did he gained unique experiences, he also was able to give back to the men and women who served this country.
He moved to the DMV area shortly after and practiced in various areas.  He is now finally married to his optometry school sweetheart, Dr. Vicky Wong, where they talk about eyes all the time!
Doctor AuYeung's core value has always been to make other's lives a little better. From providing food and entertainment as a hibachi chef to honest vision care as an optometrist. He started Eyes On Norbeck with his wife in 2018 because they wanted to bring back the personalization and intimacy in the healthcare industry.  What better way to start their Vision by living only 8 minutes from the practice and the communities they serve?
"Some become doctors to help people. I enjoy helping people, but I happen to be a doctor also"
-Dr. AuYeung
Get In Touch With Our Trusted Team
The doctors and staff of EON Vision Care look forward to providing you with comprehensive eye care. Learn more about our professional team by calling us at (301) 238-7199. You may also schedule an appointment when you fill out our request form.