Eyes On Norbeck was established by Dr. Chun AuYeung with the aim of providing a more direct, personalized approach to eye care. While some practices are simply offices that see people coming and going, we wanted to be a place where patients can ask questions and learn more about their eyes. We know there are others that require a little more attention when it comes to addressing their ocular needs and we want them to be able to talk to us eye-to-eye.
Doctor AuYeung
---
Doctor AuYeung was born in Israel (That's right. Israel) and grew up in Sunny Florida. He obtained his Bachelor's Degree in Food Science at University of Florida. During his time there, he was a hibachi chef at a local Japanese steakhouse! His intention was to be in the food service industry. However, he wanted to improve people's quality of life at a deeper level, so he decided to become an eye doctor. He accomplished this by obtaining his Doctorate of Optometry at Nova Southeastern University in South Florida.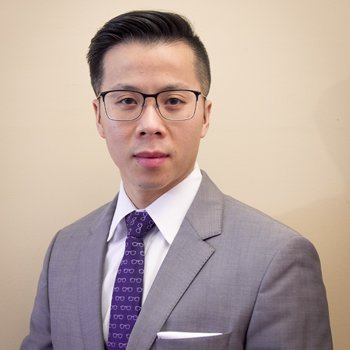 ---
---
Reviews
What our happy customer says.
This entire practice is phenomenal! Dr. AuYeung and his staff are all extremely thorough. I originally brought my dad here for an emergency appointment as my regular optometrist was closed due to.COVID-19. I was so impressed that I switched my my own care to Eyes on Norbeck as well. This is more than just an eyeglasses / contact lenses appointment. Eyes on Norbeck cares about the actual health of your eyes. Coming here is one of the best decisions you will ever make for your health and vision.

Barbara P.

Patient

Best eye place I've been to. Friendly staff, knowledgeable practitioners, and great COVID precautions (limiting the number of people inside and adding an extra face shield between you and the doctor during the eye exam!).

Irene G.

Patient

This is the best eye doctor I've ever been to in my 60 years. They are the nicest and most thorough people in the business. Not to mention the best equipment I've seen.

monteg4

Patient

Finally, an optometrist who listened to the issues I was having with my dry eyes. Dr. AuYeung Is very knowledgeable and patient. He takes the time to answer all your questions. His staff is also very friendly and informative. So glad I came to this practice when mine was too booked to get an appointment!

PL Bass

Patient

I wish I had found this office sooner. Incredible from A-Z. Appointment request made online. Received a call shortly after saying they couldn't give me an appointment on that day. I explained my symptoms, they fit me in. Friendly and caring over the phone. The same when I got there. Friendly, caring, no waiting, masks and cleaning of chairs and equipment before use, Every time and I've been three times within 4 weeks. The Doctor was a pleasure. Knowledgeable, makes you feel at ease and confident with his expertise. Explanations wonderful. I've been to another Doctor that did not explain or help and subsequently was not understanding my condition. I feel very relieved to have found this practice. 5 stars all the way around. You will be pleased, guaranteed.

Christine S.

Patient